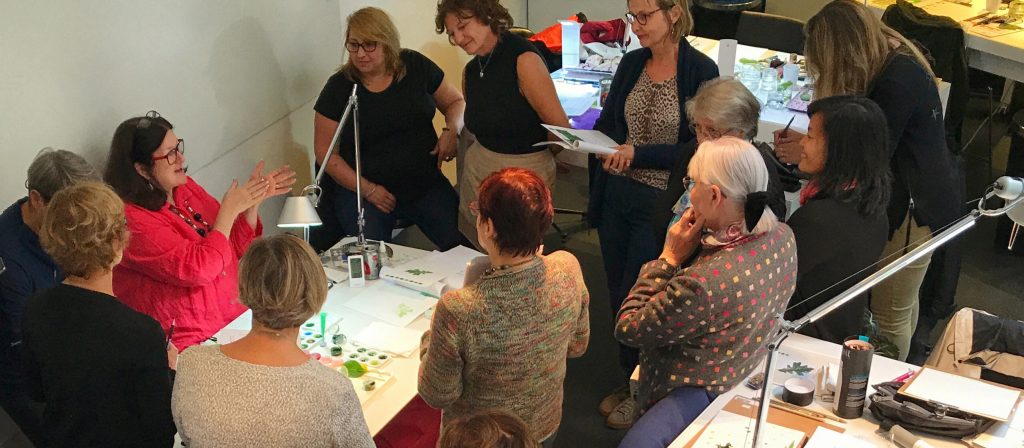 I started my career as a grade school math and art teacher. It was considered an odd combination at the time but in retrospect perhaps it was an early indicator of what was to come—the combination of science and art expressed in this genre. After all, as Galileo noted: "The book of nature is written in the language of mathematics."
My art training started as a child in private tuition. My tutor encouraged my interest in graphite, coloured pencil, and pastel. Watercolour was a different matter. She was an accomplished watercolourist with a loose and flowing style which was not compatible with my preference for a more controlled, tighter approach. Many years later at the first botanical art workshop I attended, Anne Marie Evans pointed out that my more controlled style would actually serve me well in botanical art. After her encouragement I began to enjoy watercolour again.
I then honed my skills under the guidance and mentorship of Pandora Sellars for seven years. She encouraged me to return to teaching. About fifteen years ago my botanical art friends at the Botanical Artists Guild of Southern California gave me that opportunity and I've not stopped since. I have lived, painted and taught in three different regions of Canada, and taught in more than ten countries.
I believe in the necessity for intimacy with the botanical subject of a botanical art piece. This is why drawing from a live subject is at the core of what I teach. Any other technique such as, for instance, working only from a digital image, robs one of the experience of a personal connection through touching, smelling, observing detail, and turning the subject to portray its natural colours and structure.
One of the highlights of teaching is helping people discover art for the first time through a love of plants. Over the years I've also had the pleasure of encouraging experienced artists to rekindle or expand their existing skills in one or more of the three mediums in which I work and teach (graphite, coloured pencil, and watercolour). My purpose and joy as an educator is complete when artists I've had the privilege of guiding achieve their goals, be it hanging a piece in a prominent exhibition for public viewing or even just in their home for private pleasure.
Through this educational website, it is my intention to make available to botanical art students everywhere my collection of sought-after workshop instruction booklets so they can begin to explore the genre on their own. We're regularly adding them to the library as we complete updating and editing.
As always, I look forward to promoting the enjoyment of botanical art by interacting with both new and established artists and teachers through my in-person workshops (COVID-19 permitting), through my online workshops, and the booklet library.
While this is my botanical art education site, you can find out more about me and my work on my portfolio site at www.bestbotanical.com