E-booklet Transaction Guide
TO VIEW THE CONTENT OF THE BOOKLETS: Click on the image or the title.
RECEIVING YOUR E-BOOKLETS: When you buy an e-booklet, you will receive an emailed confirmation of order from which to download the booklet (it should arrive in a few seconds). To download the booklet, click on the e-booklet title under the "Download" heading as shown here: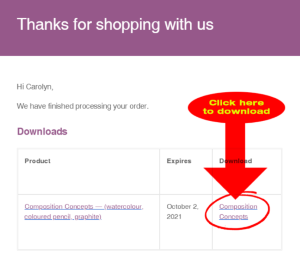 IF YOU DO NOT RECEIVE THE ORDER CONFIRMATION (AS SHOWN ABOVE): The order confirmation should arrive in your email inbox in seconds. Check your junk mail or spam mail file if the order confirmation is not in your inbox. If it is not there, please let us know via the Contact page and we will immediately deliver the e-booklets by personal email.
DOWNLOADING: It's usually best to download these e-booklets onto a computer. From there you can then send the booklets to your other devices if that is where you want to read them.
DOWNLOADING NOTE FOR TABLET USERS: If you're downloading onto a tablet (such as an iPad), be sure to save the e-book appropriately in Apple Books (previously known as iBooks) or a similar file.
If you are unsuccessful in saving a booklet on your iPad, follow this simple and quick procedure;
Use the Contact page to ask for a pdf file copy of the booklet to be emailed to you.
When you receive the email on your iPad, touch the attachment at the bottom of the email.
The attachment will download and then there will be a little box with "pdf" in it.
Touch the "pdf" box to open it.
Give it a little while and the book will open.
Then touch the screen at the top right.
An icon (a tiny box with an upward-pointing arrow) will appear.
Touch the little icon with the upward-pointing arrow and a bigger box with a number of icons will appear.
Touch the orange-coloured "copy to iBooks" or "copy to Apple Books" icon.
Give it a short while and then go back to the main screen (main button at bottom of iPad)
Find and select your iBooks or Apple Books icon. Touch it and your booklet will be there.
Now you can page by swiping from the side.
Hint: On the booklet index touch any one of the page titles and it will take you right to that page. Have fun.
DOWNLOAD AND FILE: Once you download the e-booklets you should store them on your device for use and future access. You cannot access them on this site indefinitely.
VIEWING THE E-BOOKLETS: Once bought, these e-booklets are best viewed in Adobe Acrobat (PC and Mac) or Preview (Mac).
PRINTING THE E-BOOKLETS: If you prefer to work with a hard copy, the copyright notice allows for a copy to be printed for the personal use of the purchaser.