Online Workshops & Tech Talks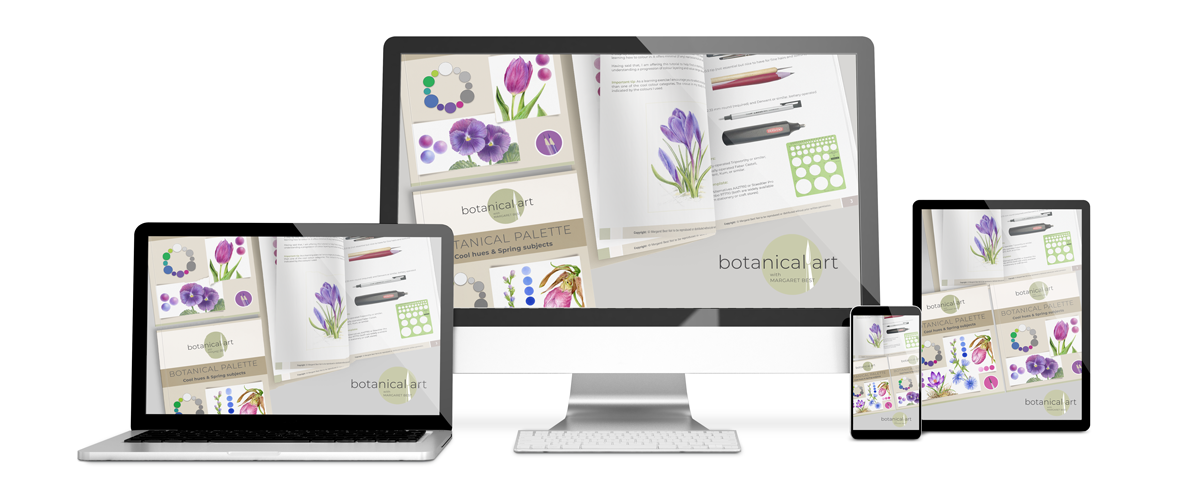 Online workshops – convenient and effective
One of the few positive impacts of the COVID-19 pandemic has been the development of online botanical art workshops. I've been fortunate to benefit from not only my own experimenting with this medium but also that of others.
I teach 3-day online workshops regularly for the Dundas Valley School of Art (DVSA). In addition to that, I also deliver short (one or two-hour) topic-specific online presentations for botanical art organizations, and conduct personally-arranged online workshops. I support my workshops with e-booklets available from the Bookstore on this site. You can see reviews of my workshops on the Reviews page of this site and on my portfolio site.
Drawing from live specimens
Please understand that I conduct my workshops according to a strict principle that the botanical art process starts with a live specimen. I do not draw or colour-match from digital images or photographs and I do not teach that way either. Consequently, I do not believe in providing drawings or photographs to workshop attendees. I support every workshop with an e-booklet available from the Bookstore page.
Reviews
Click here for a selection of reviews of my my workshops and Tech Talks.
Workshop and Tech Talk announcements and bookings
I announce online workshops and Tech Talks here and via my email mailing list. If you're not on my email mailing list, please use the Contact page on this site to ask to be included.
When I schedule a workshop, you will see the details when you click on the appropriate icon below. If there are no icons, it means that I have not yet scheduled upcoming workshops.
If a Tech Talk or a workshop is marked FULL, there will be a waiting list.  Please ask to be on the waiting for a cancellation or for advance notice of a possible repeat via the "Contact" page on this site. You will receive advance notice of a repeat event.  
Currently-scheduled online events (click on the icons for details)